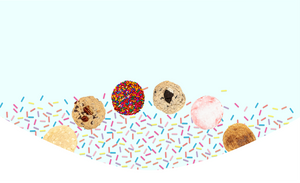 Davis Cookie Collection, LLC
Create-your-own kids birthday party
This is a 1.5 hour party for up to 8 children
Overview
Each child will be able to customize their own cookies! All children will receive pre-made Davis Cookie Collection dough that they will customize by choosing from toppings such as fruity pebbles, sprinkles, oreo, chocolate chips, and many more! Each child will be taught how to mix in the ingredients and prepare the dough for the oven. Feel free to bring in a cake, as we will sing Happy Birthday towards the end of the party.
what else will guests receive?
Each child will then get to enjoy 24 free cookies that can be taken home as well.

Davis Cookie Collection will also provide FREE ice cream for each child.
Keep in Mind
Due to the new COVID variant, all children will be required to wear a mask and only 2 adults can be present. All Davis Cookie Collection staff have been vaccinated and will still wear masks. If you're interested in booking a Birthday Party, email us at cookies@daviscookiecollection.com to confirm a date. Once you've confirmed a date with us, please purchase the party below. All dates are first come first serve.
Installment payments are available as an option in the checkout section.
Payments are NON-Refundable
*If you're in need of a themed character in costume or balloon decorations for the party, let us know as we have a few referrals that we can provide*