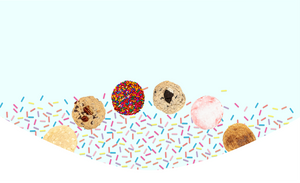 November 2 10AM-12PM
Create-your-own Cookie Class
This is a 2 hour cookie class for ages 6-12 led by Christina, owner of Davis Cookie Collection.
Overview
First, Juniors will get to see Christina make cookie dough in her commercial mixer. Next, juniors will be able to create their own cookies by selecting from various toppings such as oreo, sprinkles, chocolate chip, fruity pebbles, cinnamon toast crunch, lucky charms, and many more. Christina will teach juniors how to properly mix the toppings into the dough, how to scoop the dough, and how to prepare the dough for the oven.

This class will be a fun and hands-on experience for your child to enjoy!
What else will the Junior receive?
A customized apron and hat
A customized oven mitten with the juniors name on it
24 mini size create your own cookies to take home
Certificate of Completion
Free lunch (pizza) including a drink at end of class
Keep in Mind
All class instructors have been vaccinated. All children will be required to wear a mask, and temperatures will be checked before entering our storefront.
This is a two-hour class, so parents will need to drop off and pick up their child on time. There will be a late fee of $5 per every 10 minutes that a parent is late picking up their child.

If your child has food allergies, we advise that you refrain from signing them up for this class.

* Class payments are non refundable*